Heelllllllooooooooooooooo blog readers!!
I hope you are enjoying the day today! The sun in shining here and I am drinking it in through the big studio windows. Can't wait until I can bathe in it this summer!!
Those who are "my friends" on Facebook or read the Go Scrapping message board know that I have been thinking a lot about inspiration lately so.... I decided I'd blog about it.
My art (and yes, I include my scrapbooking in this), has made made me realize that I am inspired by a plethora of things (plethora. I love that word -- it made it into every single essay I wrote in University! ....kind of my trademark *smile*) I think Joanne described my thoughts well on the message board today so I will copy it here for you:
When I became a scrapbooker I started to look at life in general with a
different "eye" little things that I never noticed or appreciated before
inspired me - like a field of corn - a fall thunderstorm - our dogs just
relaxing on the carpet. So I guess my answer is that life inspires me and my
friends and peers help me along the way.
Thanks for that Joanne -- hope you don't mind me copying that on here :) I am inspired by what I see in magazines, in movies, what I read, and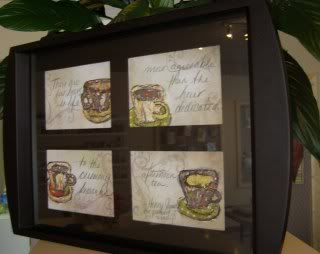 yes, even language --I think you can see that reflected in what I create. Some of my favourite pieces contain words or quotes that I have
begged borrowed and stole from everyday language, famous people or literary works. -- Remember my tea tray with the Henry James quote, or the Inspiration Collage that I created for our trailer? Or my word of the year... a layout I create every January?
Inspiration is all around us.
I was at Ikea on Monday... that was inspiring enough :) but -- on my way home I decided to go a
different way - through Waterdown. As I waved to my Go Scrapping buds who live in Waterdown, I came up on a fabulous waterfall lookout -- where the old mill was. I didn't know this existed. How beautiful!!! I drove into the parking area beside the look-out grabbed my camera and started snapping pics. The sounds were
deafening but how pretty. I can only imagine how stunning this area is in the summer time -- or even the spring!! oo oo... how about the fall with all those golden colours?? :) Yes, I think it is safe to say I was inspired. I can so see me doing something with these pics... perhaps a couple of winter image transfers for a seasonal display -- but as inspired as I was with this "scene" please forgive me if I wait to use these images in the fall ...
it has been a long winter after all and I would love to get onto some more cheery images :) hehe For now I will take my inspiration from the settling of the old bricks in the image to your left... and the "scaling" ice formations you can see on the top right image. so pretty... Yes, I know, I am such a geek! :)
It is great to take inspiration from magazines and other artists and scrapbookers alike... but also remember to take the time to "smell
the roses" and appreciate those fabulous things around you.... If you have a hard time doing that on your own -- let your kids help you! They have a way of seeing things for what they are ... and let's face it... they're the biggest inspiration of them all!!