A short day... but a good one ;)
I was only able to be at the show from 9AM - 2PM because of flights, etc. That may seem like a lot but TRUST me... time flies!
Right off the bat I went back to the Ranger booth (being sure to inhale some delicious chocolate smells from the Rusty Pickle Booth located beside it :) ). I went back there to specifically take some pics of the samples they had "littering" it. Such beautiful creations!! I certainly can't post them all here but here's a Layout and an altered clipboard to wet your whistle.
Sue Weinberg was there demoing so I moseyed on up to her counter to get in the action. I love playing with "stuff" and, as many of you know, I love her melt art/UTEE and artsy collages. I use many of her techniques on a smaller scale in my creations so I was thrilled to get some play time with her! Take a look at what she made me:
She used melted beewax for this, some stamps, rubons, stickles, foil... my oh my!! I am soooo inspired! Can't wait to play!! Here are a couple more of her creations to spark your creativity!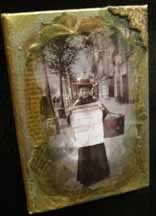 Okay, Okay - If I didn't go to the Basic Grey Booth I would be in a lot of trouble with the message board gals. So here you go ladies.
Kelly Goree (Basic Grey Artist) was there doing their make n take -- A notebook that she designed using the new GRANOLA line. I created one with her and will give it away randomly to someone who would like it (A Kelly Goree design created by Karen Ellis :) ...hehehehe). Just leave a comment in this thread (let me know that you would like it) and I will select a lucky recipient in a couple of days.
I HAD to go to the Little Yellow Bicycle Booth (It was sooooo cute). I really like their releases as well. Here is your sneak peek for it:
Taking a look at the time - I had to run waaaaaay across the building to the Maya Road booth. I just had to take this picture to show you:
Love this fun and funky look!!
So, here are the last two pics of the show. Both taken at te Maya Road booth (which was always busy -- they have some GREAT new releases too and I know you will be seeing them at your LSS soon!! And yes, that's Jon loving the show. I hope we can go to Orlando next year.... crossing my fingers.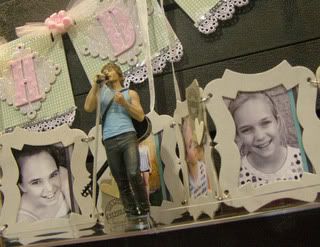 Thanks for following my CHA experience. Keep checking back -- there might be some BLOG stuff happening later this week (Does that tickle your interest??) -- And Don't forget to let me know if you would like the notebook :)