Well, here you go: the Day 2 day re-cap.
The morning started off with a bang and a little chocolate dip at the Rusty Pickle Booth :) :
...and yes, that is Jon being "dipped' in chocolate (not really though but good thought, eh?) The Chefs at Rusty Pickle are Jon fans too so of course he had to make an appearance.
The new Rusty Pickle lines are FABULOUS and I hear will be released monthly now. How great is that?? A little something Rusty every month. They might be hard to get month here in Canada (because of shipping reasons) but its good to know there will always be something new :) Take a look at these papers in action: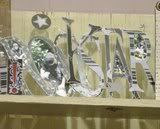 So, I'm standing at the Pickle Booth and who do I spy??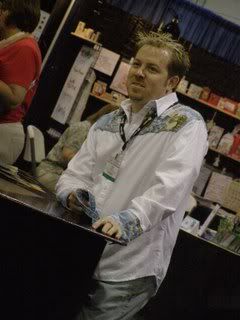 Yep, Tim Holtz! The Ranger booth was right beside it and he was there about to get ready to do some demos. And what FAB demos they were. Inks, Perfect Pearls, stamps, mists, and more!! Thatboy sure knows how to hold a crowd!
Know who else can hold a crowd? Claudine Hellmuth!
Her new studio paints are TO DIE FOR!! Love how they go on a cover everything. She has a winner with this one! And her canvas papers are self adhesive and artist quality too. Gotta love it. She's such a sweetheart and I learned lots. Thanks Claudine!
I had to tear myself away from these fabulous designers to go take pictures of the Bo Bunny Booth so the lovely ladies on the messageboard could see. Bo Bunny was one of the booths that they were interested in.
You are not going to believe this summer's Bo Bunny Release. It is stunning!
I can see this stuff FLYING off the shelves. I know I will be buying it -- Just look at the fab stuff you can create with these lines: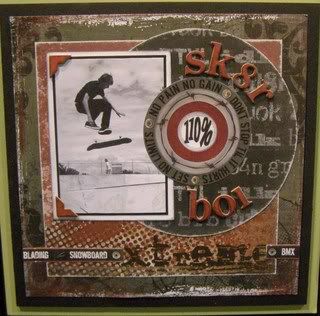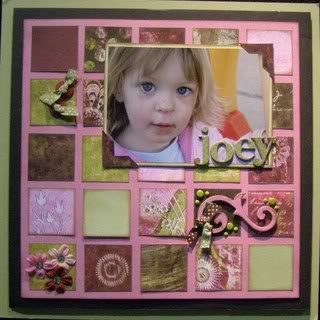 Right around the corner from Bo Bunny booth was Wendy McKeehan and Kitty Foster signing one of their latest books: Fabulous Friendships -- so, I got in line and picked me up a copy :) Here they are after signing my book:
After getting the book signed - I wondered around the corner and spotted Kelly Panacci and her hubby Mario hosting a make n take at the Sandylion booth.
It was a wonderful mini album using one of her lines -- and it also included lots of stamping so you know I was happy :). I got to chatting with them. Such a nice couple. I look forward to keeping in touch! YAY Canada!
After a long day of designer inspiration I ended up here:
...with my feet on a Foot Massager! :) This little vibrating contraption was located in the Orlando Booth, yep, you heard correctly - Orlando. Looks like the CHA summer show will be there next summer. Not sure what I think of that but what will be will be....
tons of booth shots tomorrow :)