Sheri East will be in the studio on Saturday December 6 teaching two very fun and creative projects
Why not come and do both?? They would make fabulous gifts and together will cost less than $50.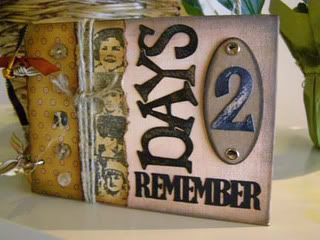 "DAYS TO REMEMBER"
12pm - 2pm
Sheri used artist canvas, fun little embellishments and die cut images to make this album special to keep or give as a Christmas gift. Sheri also used paint, ink and heat embossing to really make this project special. Two die cut dates will be supplied in this class so you will have the choice to make this album about 2008 or what's to come in 2009.
You will need your basic tool kit, sponge brush, heat gun (if you have one), embossing ink (if you have some), black and brown ink.
Class Fee: $25.00 + tax
"HOME"
3pm-5pm
Sheri has created a unique picture frame that will look great in any decor. You will use different shaped chipboard and die cut images as well as little touches of bling and paint. This project is a must have for your home.
You will need your basic tool kit, and a couple of sponge brushes.
Class Fee: $18 +tax
To register - contact the GSS 519-954-6620 or email goscrapping@rogers.com