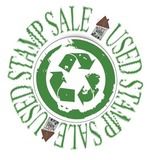 The Art House Studio will be hosting its first ever Used Stamp Sale in the Studio on
Saturday September 17, 2011 from 10 - 4
There will be stamps and stamp related products of all kinds for sale submitted by many of our friends and customers.
We all have stamps hanging around our creative spaces that we have loved but don't use any more. If you'd like to sell your stamps in our sale... here is how:
Contact me at the studio (519 954 6620) to let me know you are interested and I will send you a Stamp Sale "agreement", and a set of labels with an account number that you can fill out and bring to the studio with your stamps. A $5 Submission Fee is in place. This is a one time fee that will cover the costs of our sale and is good for 1 stamp or 100 and is required when you bring your stamps in. *smile*
After the sale, you will received 100% of your proceeds in the form of a Gift Certificate to the Art House Studio that you can use for new stamps, other products, studio time or even an in-house class. Sound good?
Feel free to contact me if you have any questions.
Have a Creative Day Everyone!!