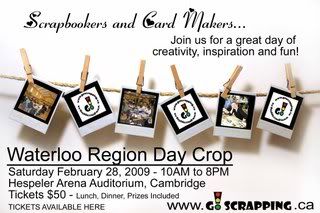 They are Here. I personally delivered the tickets for the Waterloo Region Day Crop to 3 area stores this week. They are waiting for you to go pick them up :)
The Crop will be held at the Hespeler Arena Auditorium (on Ellis near the 401 and Townline Road exit) on Saturday February 28 from 10am to 8pm.
Tickets are $50 and will include a soup and sandwich lunch, snacks and treats, coffee, tea, water and pop, and a pizza and dinner too. This price also includes taxes, goodies and chances to win some great door prizes courtesy of Go Scrapping's fabulous Retail Sponsors.
Tickets can be purchased at:
Simply Scrapping
- Southworks Mall, Cambridge (519 650 6006)
The Scrapping Bug
- Pioneer Drive, Kitchener (519 895 0554)
Scrapping Turtle
- The Mill, St Jacobs (519 664 3951)
and at the
Go Scrapping Studio
(of course) - 591 Lancaster Street W in Kitchener across from Golf's Steakhouse.
Please bring cash with you to purchase tickets as stores are unable to accept other payment for this crop.
Simply Scrapping will be our onsite store vendor, Sheri and Judy will be there from In A Pinch Designs too and there will be at least one direct marketer there as well. I will post who when all is confirmed.
Looking forward to the crop!! See you there!!
AND NOT TO LEAVE OUT OUR BARRIE AREA GUESTS
I am driving to Barrie today to take Scraps of Joy the tickets to our upcoming Barrie Day Crop held on Saturday March 28 at the Royal Canadian Legion on St Vincent Street. Same time - 10am to 8pm. More on that soon. I promise :)